"Prevention is better than cure": Kabul communities ready to monitor healthcare centers to prevent misuse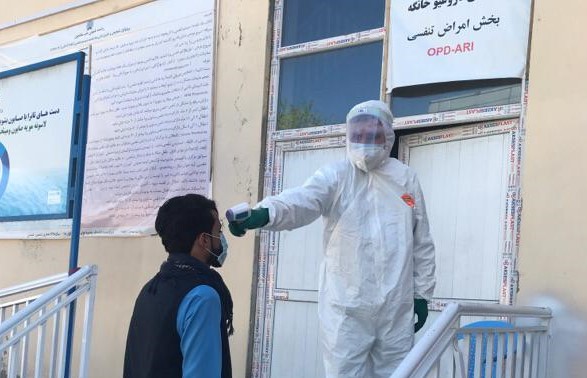 Wahidullah Azizi and Ali Ahmad Mashalafrooz, Integrity Watch Afghanistan
Last year, Integrity Watch released a report that illustrated the dismal condition of the healthcare centers around the country. In April this year, Integrity Watch started a Community-based Monitoring (CBM) program to address these problems in Kabul. Under the program, volunteers introduced by communities monitor delivery of healthcare services in six healthcare centers in Kabul province.
According to "Life Matters: Caring for The Country's Most Precious Resource" report by Integrity Watch, of the 184 health facilities surveyed, buildings of the two-third of the centers were in poor condition. Also, more than half (53%) of the facilities surveyed needed urgent repairing. Structural damages included roof leakage, defective foundations, and falling and cracked walls, to name just a few. Poor hygiene and sanitation in forty-five percent of the facilities was evident. The 184 health facilities were located in across Afghanistan including in Badkhshan, Takhar, Baghlan, Balkh, Nangarhar, Ghazni, Kandahar, Herat and the capital Kabul.
Despite millions of dollars spent, state of health services is poor in the country. Mismanagement, corruption and lack of integrity in the health system resulted that basic diseases are not treated inside the country. Ten million Afghans or one-third of the population has limited or no access to basic healthcare. As a result, many people look for the solution abroad, resulting in a huge loss of resources not to mention many who are harassed by the police in Pakistan or are looted by the interpreters in a search for a better cure in India. Those who are less fortunate are left on their own.
Given the above background, Integrity Watch has started CBM-Health on a pilot basis. Eight volunteers will monitor healthcare delivery in six healthcare centers that are located in Kabul city and at the outskirts of Kabul. The selection of these health facilities has been based on the recommendation of people from a list which was shared by the Ministry of Public Health. Local monitors will check basic indicators of health services such as the presence of doctors during designated service hours, availability and proper distribution of medicines to patients, and hygiene of the health centers. The interest and commitment showed by people to improve the healthcare facilities is promising. Mr. Naqibullah Sami a volunteer who is monitoring Macroryan Comprehensive Healthcare Center said, "the monitoring will help prevent diseases in our community."
Integrity Watch's Community Based Monitoring (CBM) proved a success after it was launched in nine provinces of Afghanistan. Under the program, volunteers are trained by integrity Watch to monitor the services such as education, justice, and infrastructure projects such as roads, public libraries, schools, and clinics.